Venue:
Chuodoori street
When:
Aug 1st - Aug 4th 2020 , 6:00pm - 9:00pm
It's August 1st a few minutes before 18:00 in the capital of Iwate Prefecture. The sun will begin to set in about thirty minutes. It's still hot, but that justifies grabbing some cold drinks with hot food fresh off the grill of a food stall. The crowd waits anxiously up and down Chuo-dori street, while office workers peek out their windows, and television station camera operators camp out on top of a high rise roof for the best angle of the event about to unfold. Then comes the low drumming. It's gets louder and louder and won't stop. Hundreds, no, thousands of drummers with thousands more alongside performing a traditional dance take over Morioka for four days (August 1st- 4th) during the Sansa Odori Festival.
The festival is one of the top five festivals of the Tohoku (north-eastern Japan) region--and it is easy to see why. The main event is the massive parade of over three thousand drummers, representing taiko groups created by schools, companies, organizations, and the over twenty taiko groups which call Morioka home. The number of so many drummers playing at once is a world record. Lines of performers are only separated by the occasional parade float or banner introducing what's next. Most groups wear their own choice of colorful and stylish traditional wear, but a decent number made the festival even more festive with anime and video game character costumes, dressing as dalmatians (year 2014) or mixing some random fun. Even those not in the parade are still able to participate. At one moment during the festival a float comes with instructors encouraging everyone to step into the street and dance together. Otherwise, a giant circle dance party after the parade is a Sansa Odori tradition. Special performances, lessons, and related events take place in front of JR Morioka Station and community halls around town during the four day festival. Japanese and English event schedules, as well as volunteer staff, are on hand to assist.
As a festival, Sansa Odori is just a few decades in the making, but from a historical perspective, it is inseparable to the city. Centuries ago there used to be a horrible demon which tormented the local people. The people prayed to the deity of Mitsuishi Shrine for help. The deity heard their cries and captured the demon. The people celebrate this feat with music and dance which has been carefully passed down from the Nanbu clan. The Sansa Odori dance is complex and dynamic in movement. It is visually and audibly a very entertaining festival in an exciting city with much to keep you busy for several days. The dance has been designated one of Morioka's Intangible Cultural Properties. Definitely worth a special trip, the Sansa Odori Festival is not to be missed!
Previous events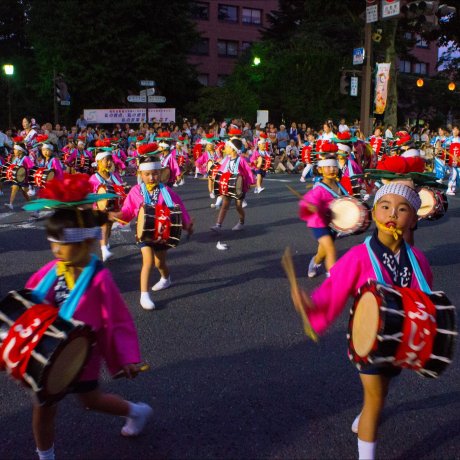 Culture
The largest drum parade in Japan
Was this article helpful?
Justin Velgus (ジャスティン ベルガス) is a long-term resident and promoter in the Tohoku region. He has been a content producer for JapanTravel.com since 2012 and was the Miyagi Prefecture Regional Partner 2013-2015. Justin's over 300 published travel and culture articles come from a background of studying in Akita, teaching English in Miyagi through the JET Program, and working for the government in Fukushima. He lives in the gyutan capital of the world, Sendai. Justin is an expert in local culture and history. He was the first foreign volunteer at Sendai City Museum and regularly advises the local volunteer guide group GOZAIN , which he is a veteran member, on guiding techniques and hidden locations in the city even locals don't know about. In his free time he enjoys delivering original walking tours, such as his Dark Sendai Tour (ghost tour) or Kokubuncho Mystery Tour (redlight district tour). Justin is also a Certified Sake Professional.