Have you ever been to a kite festival? For most people it seems, flying a kite is a childhood pass time that often becomes quickly replaced with sports, gadgets, or simply "growing out" of this simple activity. For others, it is what they live for. With an introduction from a friend, I met a group of the latter and hopped on a truck to the Kesennuma Kite Festival.
Officially this kite festival is known as the Kesennuma Tenbata Matsuri (気仙沼天旗祭り). The Japanese word for kite is tako, but the same word (different kanji character) means octopus. Perhaps to avoid a bunch of hungry people swarming their town, the locals use their dialect for the word which is a combination of heaven(天) + flag(旗). 2014 marked the 27th year of the festival, and also brought with it some significant changes. Before the festival was held at a smaller venue and it was always during February. Recent years of bad weather conditions which, occasionally included snowfall, prompted the proposed change to May at the former Kesennuma Koyo High School. The school was wiped out by the tsunami with only a skeleton of a building defying death until the end. It has a big open area for kite flying. The venue and time schedule may change in subsequent years, so do check the the city's tourism website for details.
About a thirty minute drive from Kesennuma Station, our kite enthusiast posse arrived. The dozen or so kite fliers I tagged along with seemed way too excited, and partly because there is also a kite competition. Kites are judged on things such as height, time flown, how graceful the flight is, etc. Kite clubs and spectators even came from far off Akita and Aomori to meet up with old friends and show off their spectacular kites. Get used to hearing references to how the wind is/isn't blowing, disagreements about its direction, and how the wind is not as good as five/seven/twelve/you-name-it years ago. The wind wasn't consistently strong enough to blow some of the larger handmade kites, but you can still enjoy them proudly displayed by the clubs in attendance. You are also allowed to free fly your own kite, or purchase one for sale there. A local tradition is to have a big party, usually at a hotel, where there is a kite auction and stories and jokes flow as free as the drinks. You will need to know a local to receive an invitation. There was little talk of the night before as everyone was fully engaged in the event.
Kites of all sizes and shapes took to the sky with a fair sea breeze and accompaniment of taiko drumming from a student group that visited all the way from Tokyo. Some kites, particularly the kites connected to a single string stretching nearly thirty meters, carried messages of hope written by citizens for the success of the ongoing recovery efforts. After several attempts, the group I tagged along with was able to launch the hi-no-de. Veterans of the event often recycle kites each year, giving some of the kites an almost legendary aura. The hi-no-de is a traditional design with a red dot, that was finally able to fly once again after three years of various challenges. It took four people tossing the six tatami rice mat sized kite in the air, and three people pulling a rope, to get the kite airborne. Seeing it with all the dozens of kites drifting in the sky was something magical that everyone should try to experience at least once.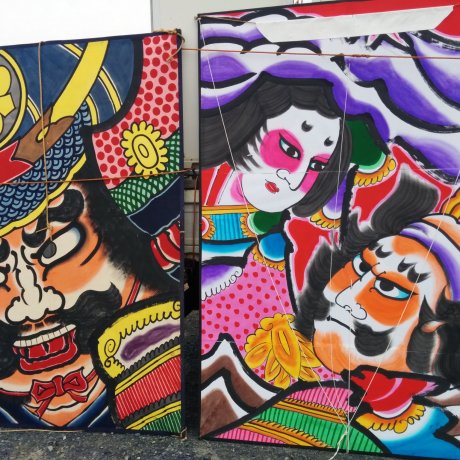 Activities
The Kessenuma Kite Festival is is half competition, half art show with its color and creative kites.