Celebrate your Golden Week at Womb! This Golden Week Holiday (26th to May 6th) will be all you can party with the GOLDEN PASS! Upon entering one of the events below you'll receive a GOLDEN PASS which you can use once at any other event this Golden Week.
People who enter any of the Golden Week events listed below for the regular admission price will be entitled to receive a free present of a GOLDEN PASS. This entitles the holder to free entry to any of the same events marked with a GOLDEN PASS entrance, which means party twice as hard for the price of one!
Schedule
4/26, Friday - A the ONE
Celebrate your night with KRAIZ, one of the EDM Top 20 DJs in Asia!
Line up: KRAIZ, ACE1, CzTiGER
Music: All mix, EDM
Entrance: ¥3000
4/27, Saturday - HOUSETRIBE
Line up: ATFC, YAMARIKI
Music: House
Entrance: ¥3500, GOLDEN PASS
4/28, Sunday - NESTAL
Line up: JUNK, SHU-­P
Music: K-POP
Entrance: ¥3500, GOLDEN PASS
4/29, Monday - WONDERLANZ
Line up: DIA, LUV
Music: All mix, EDM
Entrance: ¥3500, Women ¥2500, GOLDEN PASS
4/30, Tuesday - OTAKU TOKYO & WOMB presents "THE NEW ERA"
Line up: CHICOLA, DJ OGAWA
Music: Progressive, Tech house
Entrance: ¥3000, after 12AM ¥3500, GOLDEN PASS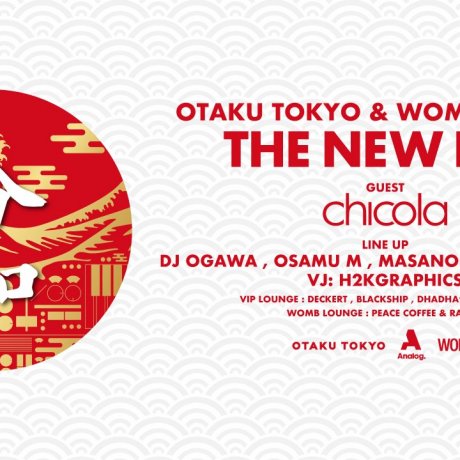 Nightlife
Celebrate your way into the new era of Reiwa with WOMB! An extravagant party including Confetti Cannon's will make sure you'll..
5/01, Wednesday - N_U_O
Line up: BeauDamian, SHOHO, FUMI
Music: Future bass, Trap
Entrance: ¥3000, GOLDEN PASS
5/02, Thursday - TOKYO UNDERGROUND RESISTANCE
Line up: DANTZ, YOSHIMASA
Music: Bass music, Hardstyle
Entrance: ¥3000, GOLDEN PASS
5/03, Friday - SINKA
Line up: D.O.D, NORII
Music: TECH HOUSE, HOUSE
Entrance: ¥3500, GOLDEN PASS
5/04, Saturday - KONNECT
Line-up
Line up: MAXIMITE, KONZO
Music: EDM, K-POP
Entrance: ¥3500, Women ¥2500, GOLDEN PASS
5/05, Sunday - 06S
Line up: DJ AKi, MORLEY ROBERTSON
Music: DRUM&BASS
Entrance: ¥3500, Women ¥2500, GOLDEN PASS