Despite having lived in Hiroshima for many years, this was the first time I've made the journey to Miyajima Island for its annual fireworks festival in the beginning of August. The crowds have always put me off going previously, but this year we decided to stay the night on the island and I actually ended up watching the display from our room at the Mikuniya guesthouse.
Of course, I was a bit disappointed not to be able to get down closer and be able to frame a shot with the silhouette of the famous giant O-torii gate in the foreground as you see on many tourist brochures. However, I did manage to get some pretty interesting shots. I hope this humble selection may show that it is possible to enjoy the display from a less crowded spot on the island.
More about this festival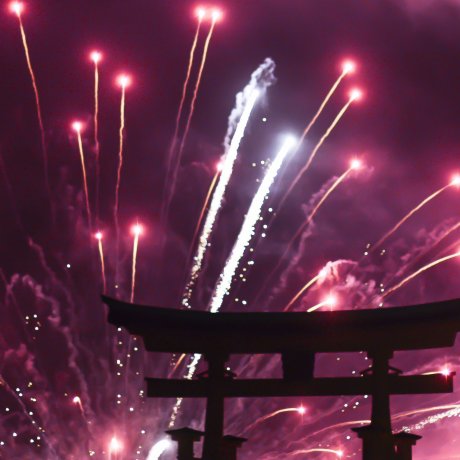 Culture
The Miyajima Fireworks Show, also known as the "Miyajima-on-the-sea-Fireworks Display," is an annual show and festival that takes..
Was this article helpful?
I've been living in Hiroshima since the mid 90's & still discovering new things to enjoy. I'm a big fan of both the old "wabi sabi" as well as modern and new designs, Japan offers both of these type of places to explore and enjoy. Even after many years here, I am still discovering surprising, fantastic and wacky things about this strange and wonderful land. I hope you enjoy your adventures around Japan- feel free to contact me with any questions you may have about traveling with kids, vegetarian dining or anything specific to Hiroshima.