The Grand Spring Festival (Shunki Reitaisai) in Nikko is celebrated in two major events. The first being the Hyakumono-Zoroe Sennin Gyoretsu, which is a procession of over 1000 men dressed in traditional samurai costume who parade through the streets in front of the Tosho-gu shrine. The procession commemorates the transfer of the remains of Tokugawa Ieyasu from where he died in Shizuoka Prefecture to where his final resting place is in accordance to his will.
The procession begins on the second day of the festival (following the Yabusame Competition the day before) at the Otabusho Shrine near the Shinkyo Bridge, which is part of the Futarasan-Jinja shrine. The procession includes over 1000 samurai warriors, Shinto priests on horseback, and three portable shrines (mikoshi) that carry three spirits, including that of the deified Tokugawa Ieyasu, the other two portable shrines house the spirits of Toyotomi Hideyoshi (a preeminent daimyo and politician) and that of Minamoto no Yoritomo (founder and first shogun of the Kamakura Shounate).
Grand Spring Festival Line-up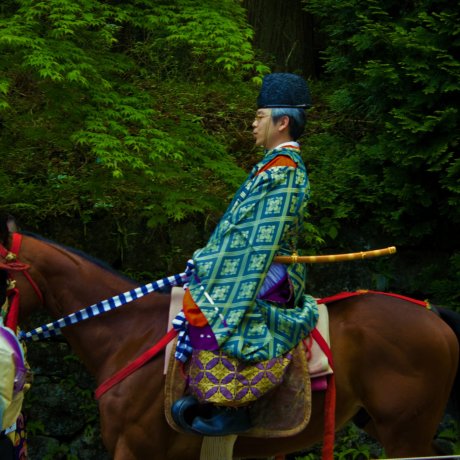 Culture
Yabusame Archery Competition at the Nikko Shunki Reitaisai Grand Spring Festival.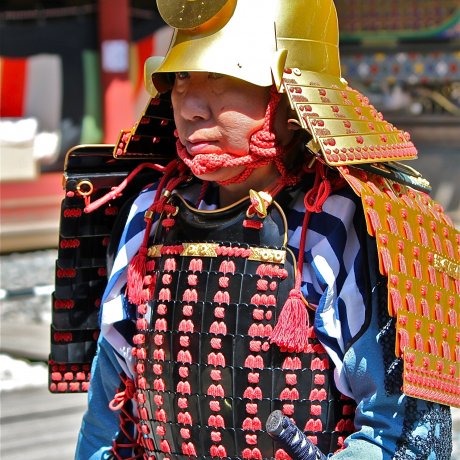 Culture
Designated as a World Heritage site since 1999, thousands of locals gather at Toshogu Shrine to parade in Nikko's traditional ..
The procession incorporates fifty different samurai costume styles from the region ranging from ceremonial yukata to full lacerated armor suits. The clothing, weapons and armor are all stored in the sacred warehouses which are featured at the Tosho-gu shrine, and are only brought out for the spring and autumn festivals.
Nikko Tosho-gu Shrine is part of the UNESCO World Heritage site in Nikko that celebrates the Temples and Shrines of the area. Tosho-gu is nestled in the natural beauty of the Nikko region and is home to a historical rich tradition. You can access Nikko directly from Tobu's Nikko Line from Asakusa station or via the JR Nikko Line from Utsunomiya. From the stations it is a short walk (~15 minutes) or quick bus ride up to the Nikko National Park and UNESCO site.
The 1000 Samurai Procession is on the second day of the festival. The previous day there is a Yabusame Archery Competition. It is worth noting that the Nikko Shrines put on another festival at the start of autumn during the month of October. Although the autumn festival is very popular it is not as impressive as the spring festival.