When in Japan, it goes without saying you want to experience authentic Japanese cuisine just like the locals. But whether it's an independent back-alley izakaya in Tokyo, or a gourmet Washoku course meal in Kyoto, the fear of Japanese-only menus and non-English speaking staff is surely one many a traveller can relate to.
Myorder
Step forward Myorder, which aims to bridge this gap by providing a fun and convenient way to order food, exclusively designed with travellers in mind. By using their site, you can research local restaurants and their menus from the comfort of your native language.
Whilst internet access is certainly required to use Myorder, participating locations typically have free Wi-Fi for you to take advantage of.
If you're already out and about, the sites's proximity search can pinpoint your location and tell you what's nearby if you're feeling hungry. With over 40 restaurants supported across Tokyo, Yokohama and Kansai, there's definitely something for everyone and more being added day by day.
Search for a Restaurant
To get started head to the Myorder website to browse restaurants by category or by location – it offers great support on both desktop and mobile device. You'll find there is something for everyone, though yakitori, yakiniku and sushi restaurants are the most well-supported. A useful map search can show you what restaurants there are around you.
With the help of the map search, I found a great izakaya not far from Tokyo's Shibuya station and headed straight there: Nihonshu Genka Sakagura (日本酒原価酒蔵).
Checking-in
Once you arrive at a restaurant and are seated, staff will hand you a simple 'Check-in Sheet' with the code to check-in. This allows you to track your order throughout the meal and handily bookmarks the restaurant during your session (in case you browse elsewhere). Signing up in advance even lets you bookmark your favorites, before you've even arrived, but can otherwise be done on the spot.
If you don't have pocket Wi-Fi there's no need to worry – you'll find each restaurant has a free Wi-Fi service to connect to. The staff here also helpfully provided an English welcome sheet explaining some useful information.
Ordering
Simply search via the app for the right dish, add it to your order list, and then show the screen to your server – the web app conveniently does the hard work of translating each request into Japanese, minimising potential misunderstandings of what exactly is on the menu!
One benefit of Myorder over a traditional menu is each dish has hi-res images and detailed descriptions, telling you about the ingredients and even history of the dish.
Itadakimasu!
Then it's time to eat! My orders came along swiftly, with the benefit of the izakaya setting being sheer variety: salmon sashimi, deep-fried mackerel, ham cutlets, grilled chicken and soy sauce-flavoured mozzarella – a great pairing with sake.
With Nihonshu Genka Sakagura being a specialist izakaya serving over 60 varieties of sake at cost price, I wanted to make the most of my trip here, opting to try several varieties including Dassai from Yamaguchi prefecture and Hananomai from Shizuoka.
The bottles are 'sample-sized' which is great for trying several varieties. Each bottle comes with a small profile card outlining the individual characteristics of your chosen brand (albeit in Japanese).
Wrapping up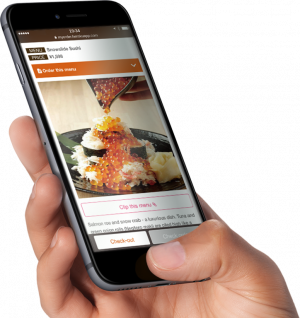 Why not give it a try? Myorder is all about making dining out in Japan more enjoyable and relaxing for non-Japanese speakers.
Compared to standard menus, you can even expect to learn something unique about each dish, which will surely make your dining experience all the more memorable.